Share It
Sharing Economy
Welcome to The Marketplace 2.0 the Sharing Marketplace (ShareIt) for the sharing economy! Your Business Registry and AdShare for Business-to-Consumer, Business-to-Business and Peer-to-Peer Marketplace. The Sharing Marketplace is connecting the old economy to the new economy.
ShareIt aims to unlock the value of unused, or underused, assets, saving members time, the hassle and most important money.
Sharing is the joint use of a resource or space. In its narrow sense, it refers to joint or alternating use of inherently finite goods, such as a common pasture or a shared residence. It is also the process of dividing and distributing. The Sharing Economy is a socio-economic ecosystem built around the sharing of human, physical and intellectual resources. It includes the shared creation, production, distribution, trade and consumption of goods and services by different people and organisations. The Sharing Economy is also referred to as the Collaborative Economy, GIG Economy, Peer-to-Peer Economy, Freelance Economy, Rental Economy, Renting Economy, Orange Economy and Asset Sharing. WE are the sharing economy marketplace "Share it".
Sharing isn't new. Giving someone a ride, having a guest in your spare room, running errands for someone, participating in a supper club—these are not revolutionary concepts. What is new, in the "sharing economy," is that you are not helping a friend for free; you are providing these services to a stranger for money. (MIT Press)
ShareIt throughout our global sharing network we can help you share unused equipment, services and personnel worldwide. Rent out idle equipment and services to generate additional turnover, or rent equipment and services from other companies to reduce your costs.
Examples Business-to-Business Sharing: Excavators, company cars, forklifts, aerial platforms, conference rooms, office space, MRI scanners, stock, personnel, canteen and printing facilities etc. JOIN THE MARKETPLACE AND BECOME A FREELANCER. WHAT VALUABLE OR UNUSED ASSET CAN SHARE OR RENT? LIST IT NOW IN THE MARKETPLACE!
ShareIt - The New Sharing Marketplace aka "The Marketplace 2.0" connecting the sharing economy. Powered by: The Crowd
To find out or learn how you can benefit from the sharing economy, tune in weekly to the Economic Roundtable, MBC LIVE & The Marketplace and MSQ week days (12:30am-8:00pm EST) WATCH LIVE right here on The Marketplace, via radio on AM 970 WSTX & K-Radio FM and TV on Tempo Networks (Friday's 9:30pm ET)
The Marketplace 2.0 is a sharing marketplace (ShareIt) connecting it members to the sharing economy, using a crowdsourcing approach to create on-demand service for FLTSHARE/FLIGHTSHAREIT, CrowdJET, CarShareIt/AutoShareIt and HomeShareIt.
List of The Marketplace Sharing Services:
▪ Businesses Unused Assets for rental
▪ Workspace Rental/WorkationSpace
▪ FlightShareIt/FLTSHARE
▪ HomeShareIt
▪ AutoShareIt/CarShareIt
▪ Rent My driveway/Rent My Parking Space
▪ Crowdfunding
ShareIt leverages online streaming and radio & tv stations in the New England States markets, New York Tri-state area, South Florida, Washington DC area and Atlanta.
Members will post/list their HomeShareIt in the property section of The Marketplace, and the CarShareIt in auto section of The Marketplace.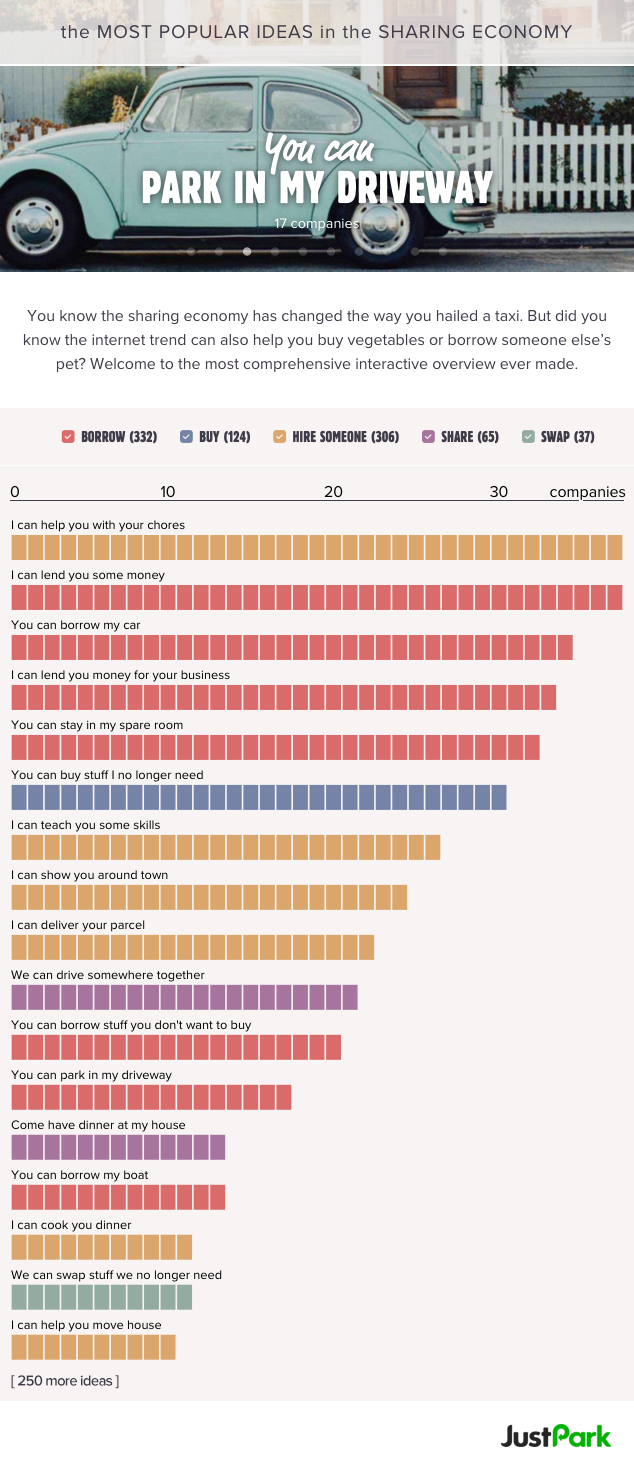 Click image to open interactive version (via Just Park).
Ideas for the sharing economy
I can lend you some money, I can help you with your chores, You can borrow my car, I can lend you money for your business, You can stay in my spare room, You can buy stuff I no longer need, I can teach you some skills, I can show you around town, I can deliver your parcel, We can drive somewhere together, You can borrow stuff you don't want to buy, You can park in my driveway, You can borrow my boat, Come have dinner at my house, I can cook you dinner, We can swap stuff we no longer need, I can help you move house, I can help you with your college subject, I can help you with some business advice, You can buy my clothes, I can look after your dog, You can stay at my house and I'll stay at yours, I can give you a lift, I can fund your project, You can work from a spare desk in my office, You can borrow my designer clothes, You can store your stuff at my place, You can borrow my bicycle, I can buy something for you next time I go abroad, You can work from my living room, I can mow your lawn, I can offer you some services, You can buy currency, You can buy my car, I can pick up your food shopping, I can clean your house, I can help you choose what to wear, We can swap some clothes, I can take your professional photographs, You can borrow my outdoor gear, You can borrow my tent, You can buy my handmade goods, You can buy my old kids' clothes for your child, You can borrow my construction equipment, I can help you make your event happen, We can share a taxi, I can help you fix your computer, You can borrow my household items, I can lend you money for your business real estate, I can give you a lift to the airport, I can give you travel advice, I can give your kids a lift to school, You can camp in my backyard, You can borrow my space to store your stuff, I can lend you money to buy a house, I can lend you some bitcoin, I can look after your pet, I can play at your event, I can teach you our local language, I can lend you money for your education, You can borrow my space for your event, I can deliver your takeaway, You can borrow my kid's toys for your child, I can help you with home repairs, You can borrow my textbooks, I will give you feedback on your products and website, You can borrow my photography equipment, You can buy my dress, I can help you in an emergency, I can insure your small business, I can look after your kids, I can help you find a perfect roommate, I can help you design your website, We can share a charter plane, We can share a private bus ride, We can share costs to buy something we both need, We can swap our goods, You can borrow my dress for a special event, You can borrow my gadgets, You can borrow my guitar, You can borrow my sports equipment, I can help you design your product, You can borrow my tools, You can buy clothes from local designers, You can buy my console games, You can buy my cycling gear, I can help you with some expert advice, You can buy my smartphone, You can dock your boat at my marina, I can help you choose where to shop,
You can gift your old stuff, You can have stuff I don't need for free, You can live in my spare room, I can teach you yoga, I can do your laundry, You can borrow my books, You can borrow my caravan, You can borrow my meeting room, You can borrow my scooterI, can 3d print your design, You can buy access to my wifi, You can buy food I'm not going to use, You can buy my designer clothes, You can buy my house, I can help you with design, You can stay in my luxury apartment, I can be your personal stylist, I can be your pilot, I can be your virtual PA, I can buy out the lease on your house, I can clean your room that's on airbnb, I can commission your craft project, I can deliver food to your college dorm, I can DJ your event, I can fix your boiler, I can get your dry-cleaning done, I can give you a massage, I can give you home improvement tips, I can grade your college paper, I can guard your event, I can help evaluate your house, I can help with your home repairs, I can help you do your taxes, I can help you find a job abroad, I can help you find great gifts, I can help you find local services, I can help you gather some data for your research, I can help you promote your brand, I can help you set up your Christmas tree, I can help you with budgeting, I can help you with legal advice, I can help you with legal work, You can borrow my designer handbag, I can help you with translation, I can help you with your next career move, I can help you with your school work, I can help you with your writing, I can help your child with their school project, I can insure your car, I can let you try the product before you buy it, I can pick up your delivery, I can pick up your shopping, I can remove stuff you no longer need, I can remove your unwanted gadgets, I can review your art, I can show you a good night out, I can show you around the outdoors, I can tailor your suit for you, I can take your group somewhere, I can teach you guitar, I can teach you to mountain bike, I can teach you to play an instrument, I will share my solar panel with you, I will share organic grocery shopping with you, I will snowboard or surf with you, I'll drive you home when you're drunk, We can exchange business services, We can share an office, We can share event infrastructure to save costs on our event, We can start a social movement, We can swap great recipes, We can swap our cosmetics, We can swap surfing holiday homes, We can swap, sell or rent stuff we no longer need, We can team up to buy clothes for our kids for cheap, You can ask your friends anything, You can book your favourite artist, You can book your favourite indie band, You can borrow my art, I can run your science experiment in my lab, You can borrow my audio equipment, You can borrow my batteries, You can borrow my plane, You can rent a space in my office, You can borrow my box to transport your bicycle, You can borrow tools and equipment, You can borrow my classic car, You can borrow my clothes, You can borrow my old console games, You can borrow my cupboard, You can borrow my event tickets, You can borrow my film camera, You can borrow my fine art, You can borrow my flowers for your event, You can borrow my golf clubs, You can borrow my gym equipment, You can borrow my kids' used clothes, You can borrow my laptop,
We can share cars to travel around our city, You can borrow my menswear designer accessories, You can borrow my motorbike, You can borrow my music studio, You can borrow my musical instruments, You can borrow my necklace, You can borrow my parachute, You can borrow my photography and video equipment, You can borrow my place for your creative project, You can borrow my place off the beaten track, You can borrow my resort home, I can teach you how to code, You can borrow my shelter dog for a walk, You can borrow my shoes, You can borrow my sofa, You can borrow my sound equipment, You can borrow my jet, You can borrow my space to show your art, You can borrow my surfboard, You can borrow my windsurf or kiteboard gear, You can bring your pop-up business to my event, I can be your personal trainer, You can buy business assets, You can buy derivatives, You can buy direct from the makers, You can buy eggs from my local farm, You can buy energy, I can be your accountant, You can buy gold, You can buy items from fellow students, You can buy my clothes and help a good cause, You can buy my clothes from eco-friendly brands, You can buy my company shares, You can buy my customised shirts, You can buy my customised t-shirts, You can buy my designer home decor, I can be your career mentor, You can buy my designer handbag, You can buy my gadgets, You can buy my home-cooked food, I can be your concierge, You can buy my notes from college lectures, You can buy my old handmade stuff, You can buy my old tech, You can buy my personal data, You can buy my second-hand handbag, You can buy my shoes, You can buy my sports gear, You can buy my tickets to an event, You can buy my trainers, You can buy my upcycled stuff,You can buy my wedding dress, You can buy produce from my farm, You can buy second-hand kids' stuff, You can buy second-hand items from someone local to you, You can buy the shoes I designed, You can buy my handmade toys for your kids, You can buy vintage items, You can buy vouchers, I can be your nurse, You can come to my party, You can get funding for your travel and tourism project, You can grow produce on my land, You can hold your gig at my venue, You can host your event at my venue, You can jam with your band at my garage, You can move into my flat as soon as our lease is up, You can play golf at my golf club, You can rent a room for your business meeting, You can run your cooking class in my kitchen, You can sell your artwork, You can share my phone tariff, I can be your personal driver, You can stay in my spare room near a big event, We can swap vegetables, I can help you make a video, You can borrow my art for your event

FIND A SHARING ECONOMY BUSINESS OR SERVICE PROVIDER